Michell is the youngest female executive chef in the U.K. Information: http://bit.ly/1eH5YwW or +44-20-3189-4850. Gymkhana, which opened this week in Mayfair, is a modern interpretation of the sports clubs created by the British in colonial India . Its an offshoot of Trishna, the Michelin-starred Indian seafood restaurant in Marylebone. Information: http://www.gymkhanalondon.com/ or +44-20-3011-5900. VISUAL ARTS He was Sudan s undersecretary for culture in the mid-1970s, then spent six months and eight days in prison without charge. Now 83, artist Ibrahim El-Salahi is the toast of Tate Modern — and the first African artist to get a retrospective there. The 100 works on show blend calligraphy and geometric motifs with Modernism and Surrealism, highlighting the many long years that El-Salahi has spent living in the West. The exhibition ends Sept. 22 at Tate Modern. Information: http://www.tate.org.uk or +44-20-7887-8888.
Blumm See more photos , news and a full bio She's known for fearlessly performing high-wire acts during her concerts, but there's one thing Pink is scared of. "I'm afraid of spiders," the singer reveals in the October issue of Women's Health. Actually, that's not the only thing that terrifies the 33-year-old. "I am afraid of sharks," she continues. "I'm afraid of the world running out of cheesecake, especially Cheesecake Factory. And then I would also have to be afraid of the world running out of key limes, because key lime cheesecake is the best kind of cheesecake there is." The mom of one is preparing to bring her Truth About Love world tour back to the U.S. next month, and the show features Pink performing death-defying acrobatic feats high above the audience, without a safety net, all while singing her hits. Courtesy Women's Health Some would say it was enough of an adrenaline rush to do that night after night, but when she's not flying over her sell-out crowds, or working out five times a week, she's tackling other daredevil feats. "One of the most daring things I've ever done is skydive, and that's because [her husband, motocross champ] Carey [Hart] surprised me with it and I had no choice. But then I did it twice; the second time is much more enjoyable," she says. "Another daring thing I did was marrying Carey Hart ." Hart is a motocross champ, which means he risks life and limb every time he gets on his bike.
Pink Is Afraid of Sharks and Spiders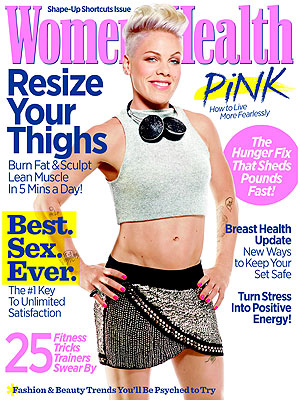 Rows of foldable chairs were set up in anticipation of the screen, along with the aforementioned popcorn machine. One organizer announced, "It's movie night at the White House!" But the police nixed the plan for security reasons. The compromise was leaving the chairs and popcorn machine, but allowing an audio of the speech to play through a small speaker set up on one of the chairs. Everyone gathered around that speaker for the duration of Obama's remarks — and their reactions ranged from amusement to fury. As the president described the horrors of chemical weapons being used by the Syrian government, one woman shouted, "Drone victims are just evaporated, you don't see them!" Several booed when Obama said everyone agrees that Syrian President Bashar Assad was behind recent chemical weapons attacks there. "We dont know," shouted one woman. "No we dont," responded another. When Obama vowed not to put any American boots on the ground in Syria in the event of a military strike, even more people booed in disbelief. One guy shouted, "Bullshit." Benjamin, seated front row and center with a "Stop War" sign, also had some choice responses. "Ask an Iraqi about that," she muttered when Obama said the U.S. military "doesn't do pinpricks." When the president said he asked Congress to hold off for now on passing a resolution authorizing military strikes, people erupted into laughter as Benjamin said, "'Cause you couldn't get a vote through!" Within seconds of the president's address ending, the group returned to chanting what they had been chanting before the speech: "No war on Syria!
Medea Benjamin, Code Pink Leader, Celebrates Birthday At White House Syria Protest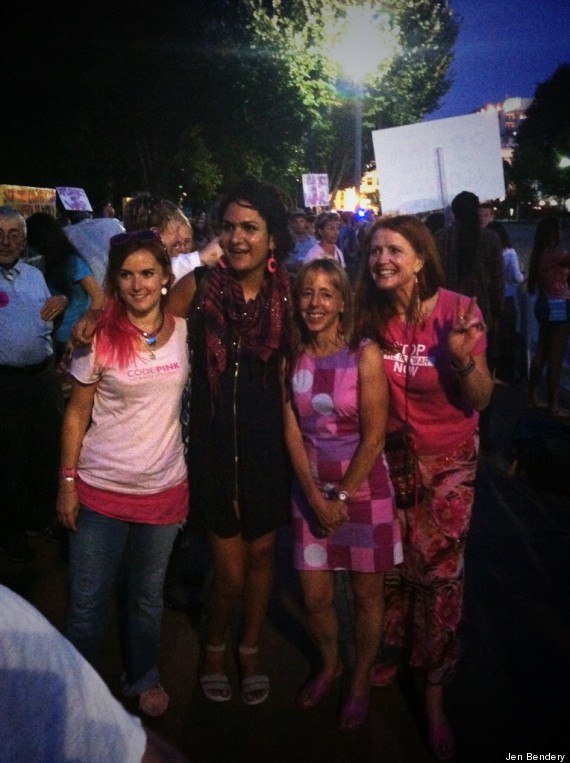 MSNBCs News Nation hyped a Politico hit job of the beef industry on Sept. 10 but there was a problem with a picture they used to illustrate the grossness of lean finely textured beef, which they continued to smear as pink slime. MSNBC host and NBC national correspondent Tamron Hall also called the beef a controversial meat product during the segment. (video after break) One picture shown as pink slime was not lean finely textured beef, according to Beef Products, Inc. (BPI). BPIs website states that nobody is for sure what it is and where it came from. They noted that the image has also been used in campaigns against chicken nuggets and mechanically separated chicken. The MRCs Business and Media Institute has contacted MSNBC about this issue, and awaits a response. The MSNBC segment referred to a Sept. 9 Politico story about how some schools across the country are starting to add beef containing lean finely textured meat back into their cafeterias. The USDA-approved meat was pulled from some stores and schools after a media panic in 2012, led by ABCs World News with Diane Sawyer. Politico referred to the beef as controversial twice, scraps twice, and the product six times. It even referred to it as remnant scraps of cattle carcasses. The derogatory term pink slime was coined by a disgruntled former USDA employee, and was quickly picked up and promoted by ABCs World News with Diane Sawyer. When it led to the loss of over 600 jobs, BPI, the company most hurt by the attack, filed a lawsuit against ABC News for $1.2 billion in damages . About the Author Mike Ciandella is Staff Writer/Analyst for the Business &Media Institute Click here to follow Mike Ciandella on Twitter.