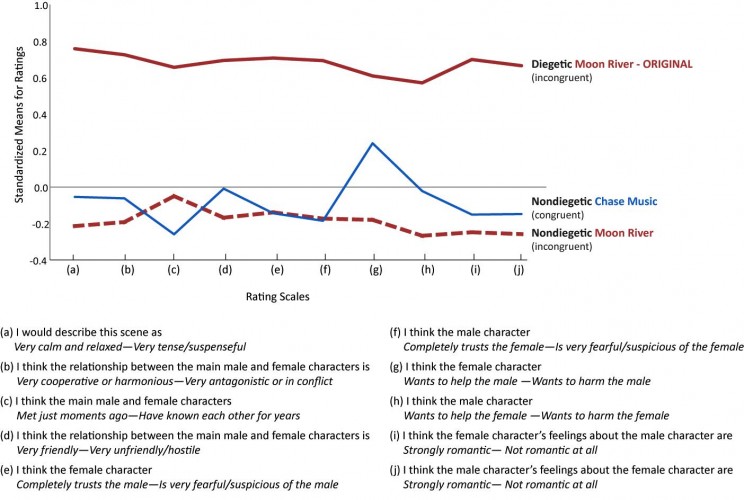 Showing Albert Finneys character listening to the record while lying in his bed and directing our attention to the source of the music brings the diegetic music into the conscious foreground as opposed to the sensory background of the crowded shopping mall in Minority Report. Interestingly, later as Finneys character in Millers Crossing jumps out of the window to escape an assassination attempt, the lush music seems to follow him down the street at full force, without fading a seamless transition from diegetic to nondiegetic. While the Minority Report scene employed Henry Mancinis prerecorded music, Danny Boy was recorded while performing to the film scene for Millers Crossing. Composer Carter Burwell recounts: singer Frank [Patterson] would watch the film with us, and Joel and Ethan would say, Now if you could hit the word bend here and hold it till the car explodes Both selections of music may be described as somewhat incongruent with the mood of an action sequence and yet do not soften it, pointing to what film theorist Claudia Gorbman has referred to as the special expressive effect of diegetic music to create irony in a more natural way than nondiegetic music. Both Moon River and Danny Boy have long histories and carry rich associations, evoking schema from other stories, films, and cultural and autobiographical memories. Through the connotative power of music, a scene may echo with multiple narratives. While the expressive qualities of the music seem to be juxtaposed with the action, both songs are anchored to their scenes through their lyrics. The lyrics to Danny Boy linger on the theme of death. The Moon River lyrics (though not included in the looped instrumental version) resonate with the situations on the screen such as two drifters wherever youre going, Im going your way as Agatha steers the pairs flight through the mall. The lyric rainbows end, waiting round the bend coincides with the appearance of a bouquet of colored balloons coming around the corner, to resolve the scene. It is not our intention to draw any grand conclusions about the definitive andpredictable effects of diegetic versus nondiegetic music. Music interacts in dynamic and probably irreproducible ways within the complex ecology of any film scene. The specific effects of migrating a piece of music from diegetic to nondiegetic depend on the unique interplay of music and moving images. However, our study suggests that the diegetic/nondiegetic distinction is perceptually salient to a general film audience.
Music in tune downtown for Staunton
Simples." Atoms for Peace member/Radiohead producer Nigel Godrich argued in a series of tweets that Spotify is "bad for new music" and that "if people had been listening to spotify instead of buying records in 1973 I doubt very much if (Pink Floyd's 'Dark Side of the Moon') would have been made. It would just be too expensive." The local independent label Drag City is keeping its catalog off Spotify and all other streaming services, even as most labels big and small play ball. The Chicago-based Bloodshot Records has its music on Spotify, though label co-owner Nan Warshaw remains wary. "Sales are certainly being cannibalized by piracy. It's less clear how much they're being cannibalized by these other things," she said, though she added: "If the streaming services like Spotify become a predominant model, then very few if any labels can survive on that kind of money. It's certainly better than people stealing music, and we do see a small payment, and we are getting sizable checks from Spotify every month. However, it's not sizable when you look at the number of times a song was played." Ken Parks, Spotify's chief content officer as well as Spotify North America's managing director, doesn't buy claims that his service has had a negative impact on sales. For one, with about 24 million registered users 6 million of whom pay for the service Spotify doesn't approach the market penetration of, say, YouTube, which Parks called "by far the largest music service in the world." YouTube reports that each month more than 1 billion unique users visit the site and more than 6 billion hours of video are viewed, with music being the most-viewed category. Parks argues that Spotify isn't big enough to cannibalize that many sales, and when the company does achieve a larger scale in the U.S., as it has done in Sweden and other Nordic countries, he believes it will help the music industry's sales grow, not shrink, and musicians will reap the rewards. "We are in the very early days of this service," Parks said. "We consider ourselves just scratching the surface." Let's hit the pause button here to examine the distinct ways in which these online services operate. Pandora has been by far the biggest player in Internet radio, announcing that it had 72.1 million active users in August (a 28 percent increase over 2012) who streamed 1.35 billion hours of music, this after the company revealed in April that it had surpassed 200 million registered users. (iHeartRadio, Slacker and SomaFM are among those playing catch-up.) But the Sept. 18 launch of iTunes Radio promises to change the dynamic: Early last week Apple announced that it already had attracted more than 11 million unique listeners to its service, and Pandora's stock price dipped by 10 percent. You can create a Pandora "station" based on an artist you like anything from Lady Gaga to Muddy Waters to Gorky's Zygotic Mynci and you'll hear music from that artist as well as supposedly similar works from other artists, as determined by the company's algorithms, plus the occasional ad if you sign up for the predominantly free service.
Club drug 'Molly' taking a toll on electronic music party scene
Berrang, a Waynesboro native, said there are more places to perform and larger crowds in Staunton than in the River City. Its something hed like to see change. The guitar player said he usually performs acoustically, leaning more toward blues, folk and soft rock. He said he has been influenced by music that has come before and influenced by music coming out now. But he would love to be able to perform before a larger crowd than what Waynesboro now offers. David Duffy Young, of Waynesboro, and Alex Arbaugh, also of Waynesboro, agree. The duo was at Shenandoah Pizza on Thursday evening and were pleased they had a place to perform. Both artists expressed desires for a larger music scene in Waynesboro, but said the growing culture of music in downtown Staunton is good to see. Young said more young musicians are coming up and they need places to get in gigs. That involves practice and places to play. Arbaugh said these up and coming artists need to rehearse and get stage time as much as possible, use all the resources that are out there and dont talk to much. For music lovers, such as Huggins, being in and around music is a good feeling. And bringing that good feeling into his restaurant is a win-win for everyone. Huggins said the local groups have followings and they tend to draw that following in when they perform. Huggins also hosts a radio show on Star 94.3 at 11 a.m.
80 to 90 percent of the time we are given a chemical or substance believed to be Molly, we're finding most of the time it is something completely different." Four recent deaths attributed to Molly have thrust the club drug into the national spotlight. On August 31, a 23-year-old Syracuse University graduate and a 20-year-old University of New Hampshire student died after taking what they believed to be Molly during an electronic music concert in New York City. The deaths, and several other reported overdoses, prompted the Electric Zoo festival to cancel the final day of the concert. RELATED: ELECTRIC ZOO SUED FOR NOT REFUNDING TICKETS AFTER OVERDOSE DEATHS A University of Virginia student died at a rave in Washington, D.C., the same weekend, after taking what her friends said was Molly. Days earlier in Boston, a 19-year-old woman died in a club and three concert-goers overdosed at the waterfront, police said. In Atlanta, this weekend's TomorrowWorld music festival organizers warned on its website of zero-tolerance for MDMA use, but noted: "If you or someone around you has taken something that you are concerned about or need help, it is important that you tell our staff. We are here to help and never judge." The number of visits to U.S. emergency rooms involving MDMA has jumped 123 percent since 2004, according to data compiled by the Drug Abuse Warning Network. In 2011, the most recent year on record, there were 22,498 such visits. RELATED: 'MOLLY' OVERDOSE CAUSED ELECTRIC ZOO DEATHS: CITY In the New York concert deaths, the medical examiner found lethal mixtures of MDMA and methylone, a synthetic stimulant, the DEA said. "It's exactly the same phenomenon that occurred with ecstasy a decade ago," said Dr. Charles Grob, a professor of psychiatry and pediatrics at the UCLA School of Medicine and an expert on MDMA. "Ecstasy had terrible reliability and it's the same with Molly.